CLOUD FORMATIONS
SAVANT Musikmagasin
"…en hoppfull fusion av svävande shoegaze och psykedelisk krautrock". "Vi vill uppmärksamma det här kreativa albumet och låten "HKI -97" som gått på repeat på redaktionen". – SAVANT Musikmagasin, Sweden
Saarbrücker Zeitung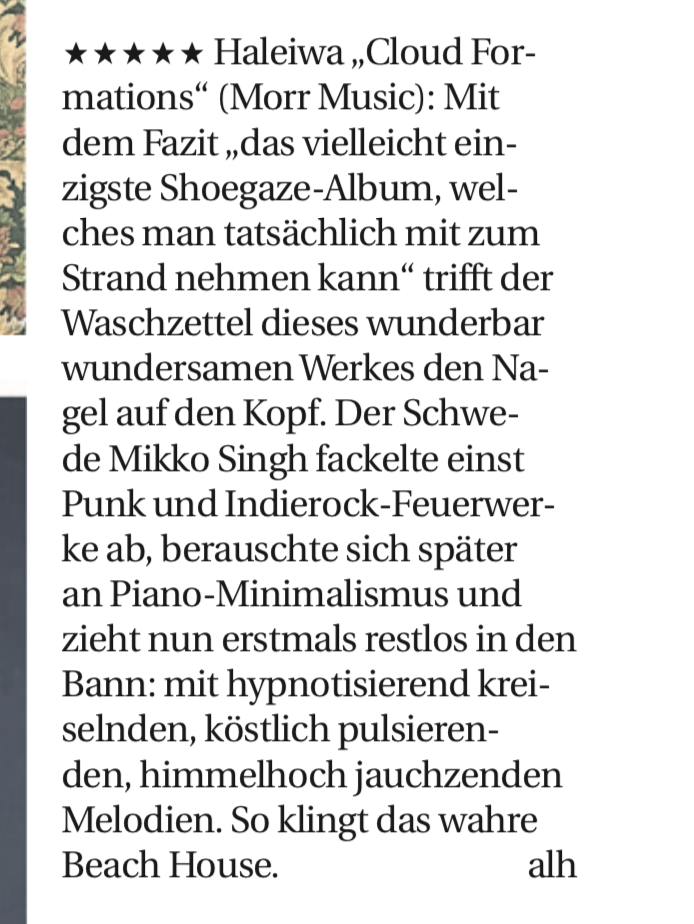 Kulturnews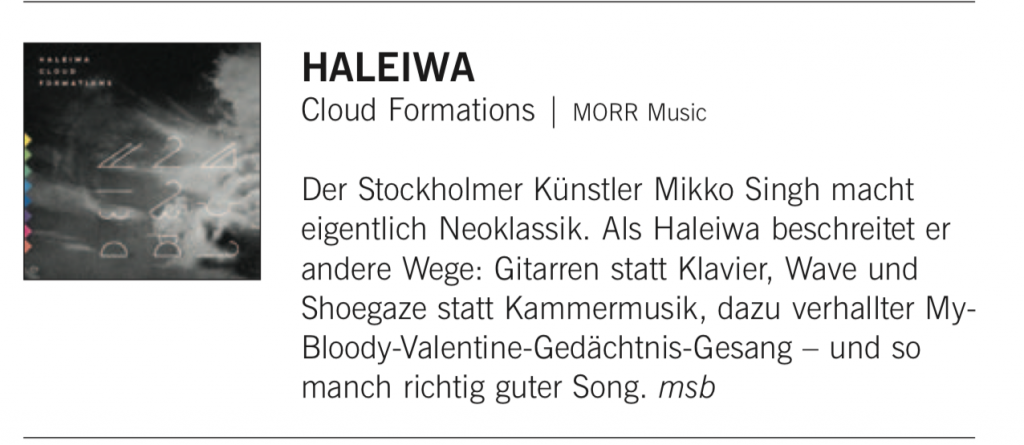 Groove Magazin
Rockerilla
"Suitably presented as a shoegaze beach album. Cloud Formations confirms the oxymoron in a gallery of Balearic postcards, which also maintains the anchoring in an oblique pop lexicon very evident, interpreted with dreamy lightness and taste of experimentation. SUNBATHING POP-WAVE". Review by ROCKERILLA
Campusradio Jena
"…he delights us with kraut and a kind of lo-fi that makes you relax and listen". "He tried a lot: punk or indie, he did not shy away from anything, but now he gets stuck in a smoky-melancholic lo-fi sound with elements of kraut. That's how Cloud Formations is designed, with little vocals, but many sounds make the listener drift off into a cloudscape into which one can dive and sink. Psychedelic and intimate is his third album, which has convinced our music editor this week. Surf the clouds with Mikko Singh and enjoy the melancholy!".
Review by Campusradio Jena
Neolyd Cloud Formations review
"Crossroads" is somewhere on the border between Modern Psychedelia Spotify hit and meditative silence, tearing up the musical poles of the album – it's an interplay between something more pleasing, well, "hits", and scruffy, leisurely, sometimes canny, bulky meditations, that go into the more spherical areas of Surf / Kraut / Psychedelia". Read the full review in German here.
Kulturní Magazín UNI
"The deliberate lo-fi tone of the guitar lines and vocal will lead Haleiwa to freakfolk waters once, while massive analog electronics will bring a distinctive gust of eighty inspiration to Singh's third solo album" "…the follower of the Styrofoam legacy or the Acher brothers' series (from Lali Puna to Ms. John Soda) sounds more than promising". New Cloud Formations review by Czech Kulturní Magazín UNI. Read the full review in Czech here.
Gonzo (circus)
"On his third album he lets a fresh wind blow through his sound. Sometimes the wind blows a little harder when the guitars are hit hard. The echoing melodies and the dull voice make you experience the nine tracks as a kind of intoxication, with the highlight being 'Crossroads'". "Cloud Formations" is therefore a cleverly chosen title. Singh builds his guitar-driven songs like a cloud: foggy because the raw edge is never far away, but also floating in the air because it always has a dreamy undertone". New review by the greatmusic magazina Gonzo (circus) Read the full review in Dutch here.
Escafandrista Musical
"An album where the guitars move away to give way to a more experimental approach. It has that great air that rock bands of the Morr Music label distilled, where electronics are rich in flavors and rock sounds more evolved".
"A transverse album, at times dense (Foggy), sometimes sparkling and kraut (Crossroads) or intimate, full of passion and troublemaker (HKI-97) …".
"It is a good marriage of sounds and melodies, of different shades that is a great summer travel companion". Review by Escafandrista MusicalRead the full review here.
Exit Music For A Drink
"One of the great love strokes of the shop! Haleiwa releases a record of pure dreampop whose songs are banging their ass on the floor, as they say". Thanks to the French vinyl store Exit Music For A Drink for the thumbs up on Cloud Formations!
Neolyd
Indie Rock mag
"Mikko Singh evokes foggy structures and low emphasis from New Order with his compatriots from The Radio Dept on this charming mini-pop album which will be released in early July and culminated with the crystalline lyricism of the instrumental Path Of Kahalu'u".
Les Musicophages
"The soundtrack of spring: we listen to the new Haleiwa single "HKI-97″ to bask in the sun"